Our technology gives you the confidence for best results.
Looking for the right dental treatment to fit your needs?
Find out how & why we have thrived for the past 30 years.
Call our friendly team today to discuss your dental needs.
MEET YOUR DENTAL TEAM
Our Staff – The Professional Team at Andrew Baderski Dental, consists of a highly dedicated, caring and professional team of dentists and staff, who each strive to meet & exceed your individual dental care needs.
Our thirst for knowledge ensures that we are always up to date. You benefit by our want to provide you with the best techniques and treatments available in dental care.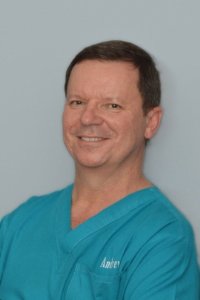 Meet Dr. Andrew Baderski
Dr. Baderski graduated from the University of Sydney with a Bachelor of Dental Surgery degree (Hons) in Dentistry and has been practising dentistry in Ingleburn for over 20 years.
Andrew's visionary approach to his work has allowed him to establish himself as a confident, caring and compassionate dentist, and one who strives to achieve the most appropriate solution when dealing with patient issues.
With a reputation as being a dentist who strives to place an element of fun into his work environment, Andrew encourages a continual level of importance on the need for learning amongst his team.
Meet Dr. Karenza Don Paul
Dr. Karenza Don Paul came to us as a graduate of the BDENT Sydney University programme of 2006, having previously completed her BMed Sci degree in 2002. Since graduation, Dr. Karenza has both worked as a dentist and enjoyed family time. She is married with two children, both boys, and is keen to develop patient relationships based on her belief that dentistry is an integral part of healthcare as a whole.
Karenza strives to educate patients and feels that prevention is truly better than cure. She also acknowledges that there are multiple solutions to dental problems and strives to tailor the best treatment options to suit the individual patient.
Meet Marinella Harrison – Dental Hygienist
Marinella is here to provide you with the highest level of care and attention regarding your overall, individualised oral health and hygiene needs. Marinella has a wealth of knowledge and experience having started as a Dental Nurse (as they used to be called) some 29 years ago. Her passion grew and her want to help people of all ages, especially anxious people to a time when she decided that she wanted to do more and undertook her university qualifications at Newcastle Uni and become a Dental Hygienist – Oral Health Therapist. With that degree under her belt, Marinella continues to pursue growth and knowledge in courses related to dental health & hygiene so as to provide you with the highest levels of care regarding dental hygiene, periodontal & gum related diseases. Able to work with both children & adults, once you've experienced a dental hygiene visit with Marinella, you'll never have your dentist do this appointment for you again. Away from her day job, Marinella is a mum of 3, animal lover and enjoys cooking & watching movies. One day when the kids have left home, she also hopes to get back to another love – flying – single engine aeroplanes!
Get In Touch
To book an appointment with our trusted dentists in
Ingleburn, call us on 02 9605 1968 today. 
Caring family dentist for over 30 years
Dedicated staff ready to provide high quality dental care Convenient hours
We keep up to date with latest technology
Wide range of treatment options