TECHNOLOGY
We invest in the latest technology to maintain your healthy smiles.
TREATMENTS
Our dental practice has a wide range of treatment options available..
OUR PRACTICE
Our treatments meet the highest standards of comprehensive dentistry.
CONTACT US
Call our friendly team
today to discuss your dental needs.
INGLEBURN'S TRUSTED TEAM OF PROFESSIONAL DENTISTS
OUR STAFF
Andrew Baderski Dental consists of a highly dedicated, caring and professional team of dentists and staff, who each strive to maintain a consistent level of personal care and attention to your individual needs.
Our goal remains one of instilling integrity, intelligence, passion and a desire to continue expanding our knowledge and understanding of the dental care profession. Each of our qualified dentists also aims to find the best ways in which to develop the practice of dentistry in our future.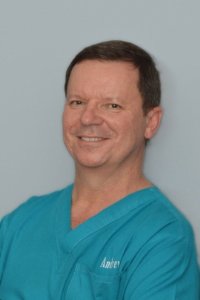 Meet Dr. Andrew Baderski
Dr. Baderski graduated from the University of Sydney with a Bachelor of Dental Surgery degree (Hons) in Dentistry and has been practising dentistry in Ingleburn for over 20 years.
Andrew's visionary approach to his work has allowed him to establish himself as a confident, caring and compassionate dentist, and one who strives to achieve the most appropriate solution when dealing with patient issues.
With a reputation as being a dentist who strives to place an element of fun into his work environment, Andrew encourages a continual level of importance on the need for learning amongst his team.
Meet Dr. Karenza Don Paul
Dr. Karenza Don Paul came to us as a graduate of the BDENT Sydney University programme of 2006, having previously completed her BMed Sci degree in 2002. Since graduation, Dr. Karenza has both worked as a dentist and enjoyed family time. She is married with two children, both boys, and is keen to develop patient relationships based on her belief that dentistry is an integral part of healthcare as a whole.
Karenza strives to educate patients and feels that prevention is truly better than cure. She also acknowledges that there are multiple solutions to dental problems and strives to tailor the best treatment options to suit the individual patient.
Meet Marinella Harrison & Susy Wilkin
Together our hygienists are happy to provide to you the highest level of care and attention regarding your overall, individualised oral health, and hygiene needs. Marinella & Susy have a wealth of knowledge and experience between them in dealing with all manner of dental hygiene, periodontal and gum related diseases. Both our Hygienist are able to work with both adults and children and provide a dental hygiene experience that is well worth a visit. Once you've had a dental cleaning visit with these ladies, you'll never have your dentist do your cleaning again.
Get In Touch
To book an appointment with our trusted dentists in
Ingleburn, call us on 02 9605 1968 today. 
Caring family dentist for over 30 years
Dedicated staff ready to provide high quality dental care Convenient hours
We keep up to date with latest technology
Wide range of treatment options