Covid19 Update – Coming to the dentist is actually one of the safest things you can do. You are coming to a sterilised, disinfected, clean environment as usual. Very little changes for us because of this virus. We already work in masks & gloves, we already do thorough hand hygiene and have hand sanitiser available for you, we will just ask you to use it more! We already do pretreatment mouth rinses, so all stays normal. We will put a little cover on the Eftpos machine to make it easier to clean. It's as safe as being at home! If you've travelled from overseas in the past 14 days or been in direct contact with someone who has or is confirmed as carrying the virus, then yes, for the safety of all, your treatment should be delayed for about 30 days. If you are running a fever, with a cough etc, your treatment should be delayed. If you are immune suppressed because of cancer treatment etc then you should delay treatment. Other than for those few, it's business as usual here in your clean, sterilised, disinfected dental practice. We look forward to being of continued service to you.
TECHNOLOGY
We invest in the latest technology to maintain your healthy smiles.
TREATMENTS
Our dental practice has a wide range of treatment options available..
OUR PRACTICE
Our treatments meet the highest standards of comprehensive dentistry.
CONTACT US
Call our friendly team
today to discuss your dental needs.
Welcome to Andrew Baderski Dental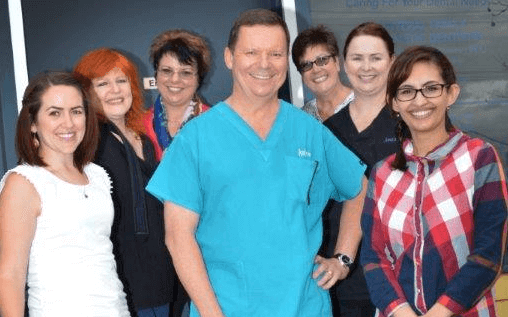 We'd love to meet you
At Andrew Baderski Dental, we're here to provide you with high-quality dental care that is second to none. At our family dental practice in Ingleburn, you're guaranteed to receive the most appropriate and effective dental and oral treatments. Place your concerns in the hands of our reputable team, who care not just about your smile, but also your individual health needs. Please feel free to browse through our website and see for yourself the range of services we can provide for you including:
General dental care
Orthodontics
Children's dentistry
Cosmetic dentistry
Sports dentistry
Please know that we always treat you like a member of our family and not just another patient. Servicing the dental needs of patients from Ingleburn, South West Sydney, Liverpool and the Macarthur region, we'd love to meet you too, so give us a call today.
Professional dental care in Ingleburn
Under the guidance of Dr. Andrew Baderski, our committed dental staff will provide you with the most up-to-date and advanced practices in general, orthodontic and cosmetic dentistry. Every treatment at our family-owned dental practice has been rated to meet the highest standards of comprehensive dentistry. We rely on the highest quality approved equipment and materials, designed for absolute performance, efficiency and patient safety.
In addition to practical treatments, we can also convey important health care and hygiene advice during your visit to our professional dental practice in Ingleburn. With the right supervision and at-home care strategies, together, we can ensure that your teeth stay healthy and visually appealing.
Caring family dentist for over 30 years
---
Dedicated staff ready to provide high quality dental care
---
---
We keep up to date with latest technology
---
Wide range of treatment options
Enjoy your smile now and pay for it later
Afterpay allows you to enjoy your smile now and pay for it in four equal fortnightly payments.
With Afterpay you can spread out the cost of your treatment with no added interest, and no additional fees*.
Sign-up to Afterpay, book an appointment at Andrew Baderski Dental, and scan your Afterpay barcode at reception – it's as easy as that.
Everyone deserves a healthy smile and with Afterpay there's even more reason to show it off.
Get in touch
View a 3D Tour of Our Practice Today!
Discover Why Independent Dental Treatment Is Important To Us